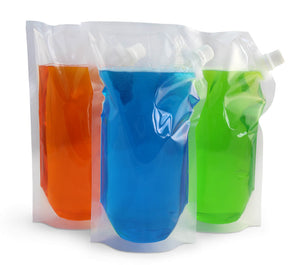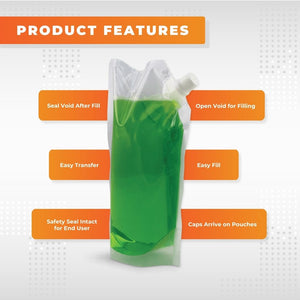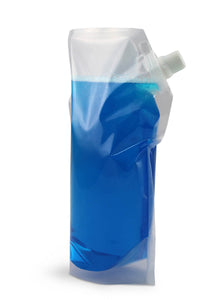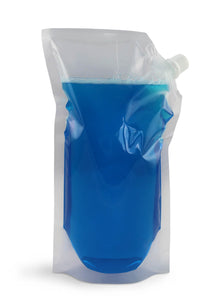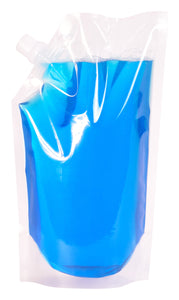 ---
Click Here for Volume/Capacity Ranges for our Products
---
Not sure which pouch is right for your product?
Click Here and we'll send you some samples so you can get the pouch you need.
Package your liquids more effectively and more efficiently with our new Spouted Stand Up Pouches. These pouches take up much less room when empty than traditional liquid packaging, which makes them more efficient to transport and store prior to use. Our pouches are certified for all types of liquid packaging and are less prone to breakage than traditional packaging.
Easy to fill and easy to transport, our spouted pouches are a great match for your product. Join the revolution and give your customers the next evolution in liquid packaging.
Perfect for packaging: energy drinks, fruit juice, liquid soap, detergent, water, shampoo, baby food and even honey.
While we do not print on our stock pouches, we have partnered with Avery WePrint to deliver an easy solution for custom labels. They provide fast and professionally printed labels at a low cost. Plus you can save 10% when you use the promo code ABC10! Click here to get started!
Note: Upper corner of pouch has an open void for filling with liquid product. Void can be heat sealed after filling with an impulse heat sealer (vertical heat sealer not recommended for spouted pouches)
Caps arrive on pouches so safety seal is only broken when opened by the end user.
Clear
500/case
5.5" x 9" x 3"
Holds 24 fluid ounces
591 mililiters
.16 gallons
9 mm spout 
Void to fill is 2.9 inches or 74-75 mm
Hot Fill up to 212 Fahrenheit (100 Celsius)
Freezer Safe as low as 0 Fahrenheit (32 Celsius)
Spouted Stand Up Pouch 5.5" x 9" x 3" | Clear 500pcs
Great Product
I use these for a broth, we freeze in these packages. They work great freezing & thawing- no leaks. The shipping is quick and the customer service is awesome.