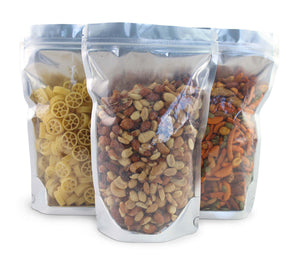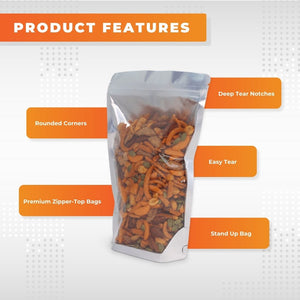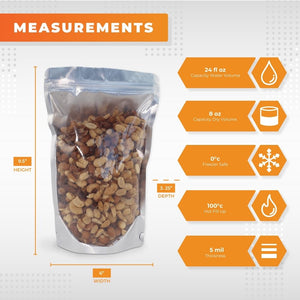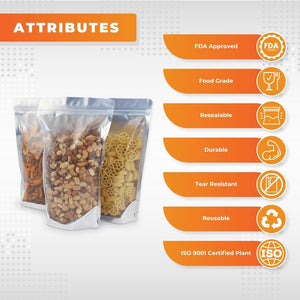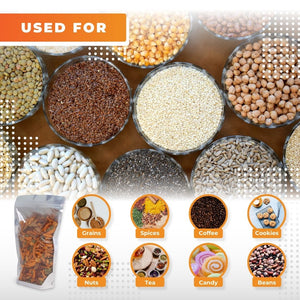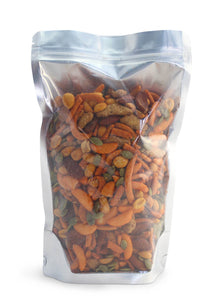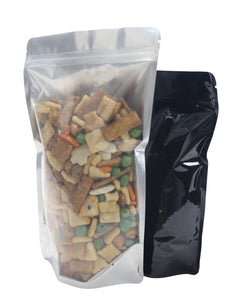 ---
Click Here for Volume/Capacity Ranges for our Products
---
Not sure which pouch is right for your product?
Click Here and we'll send you some samples so you can get the pouch you need.
Flexible retail packaging such as our stock stand up pouches made with a clear front and black foil back will protect your product and keep it fresher for longer.  Made with heavy duty barrier film, these stand up pouches combine a very strong clear front with a solid black foil back to create flexible retail packaging that will not only stand up on a store shelf but stand out and get your product noticed.
Made using FDA food grade film, these stock stand up bags will protect such as granola, cereal, frozen seafood, dried fruit and vegetables.  Not all protective packaging is the same, and we go to great lengths to choose the best film structures to produce flexible retail packaging you can use with confidence.
6" x 9.5" x 3.25" Clear/Black
Our pouches are made in our ISO 9001 Certified Plant
1000 pieces per case
Heavy Duty Premium Film Structure (5 mil thick) (NYLON IN STRUCTURE!!)
ROUNDED Corners (no sharp edges!) (no extra charge)
PREMIUM Zipper-top bags (no extra charge)
DEEP Tear Notches (no extra charge)
GREAT FOR: Spices, Cereal, Granola, Snacks, Cookies, Coffee, Seeds, Grain, Pet Treats
Holds 8oz Dry Material or 24oz Wet Material 
While we do not print on our stock pouches, we have partnered with Avery WePrint to deliver an easy solution for custom labels. They provide fast and professionally printed labels at a low cost. Plus you can save 10% when you use the promo code ABC10! Click here to get started!
Note: Each pouch comes with an open void to fill with your product, which is then sealed with an impulse heat sealer.
Couldn't have been happier. Will continue to buy. Outstanding customer service.
Thanks, Patrick! We appreciate the review and the five stars!
Haven't used it yet...
But, it is exactly what I ordered...thank you! I'm sure my customers will be happy with the new packaging.
Quality product
Ordered my first 1000 of these bags and they are great! very high quality. The only complaint I can think of is that the inside is silver and the outside is black. If it was black on inside and outside it would look better to me.
Great quality!
These pouches are great quality. Based on my experiences with previous suppliers of stand up pouches, I was worried that maybe these pouches would be too thin or would made out of cheap materials. With our previous supplier, their pouches would constantly burst open during the shipping process. But I was pleasantly surprised with the quality of standuppouches.net. They are very thick and sturdy bags, and they feel like they are made of quality material. The plastic it is made out of is very pliable and doesn't crease or "crinkle" like some other materials that could be used. They keep a professional presentation for any product you might use these pouches for, and they don't visibly degrade or crease after heavy use. We have gone through over several thousand of these pouches already and we have not had a report of one single bag tearing while being shipped. They are good quality, and these stand up pouches are exactly like they should be. No shortcuts that I have noticed. Worth the price.