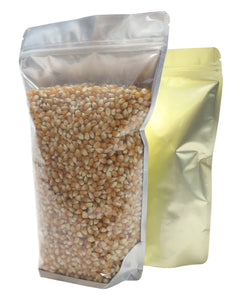 ---
Click Here for Volume/Capacity Ranges for our Products
---
Not sure which pouch is right for your product?
Click Here and we'll send you some samples so you can get the pouch you need.
Protective packaging such as our stock stand up pouches that incorporate super strong clear film on one side and gold foil on the other. Excellent barrier bags for food and other items such as meat and cheese, snacks, and baking mixes. Made from food grade film, this FDA approved food packaging will protect and help you build your brand.
Stock stand up pouches from StandUpPouches.net will prevent harmful elements such as moisture, vapor, and odor from affecting your product.  So trust the #1 brand for stock stand up pouches and protective packaging and watch your products fly off the store shelves.
7" x 11" x 3.5" Clear Front Gold Back 
Our pouches are made in our ISO 9001 Certified Plant,
1000 pieces per case, ,
Heavy Duty Premium Film Structure (5 mil thick) (NYLON IN STRUCTURE!!)
ROUNDED Corners (no sharp edges!) (no extra charge),
PREMIUM Zipper-top bags (no extra charge)
DEEP Tear Notches (no extra charge),
GREAT FOR: Spices, Cereal, Granola, Snacks, Cookies, Coffee, Seeds, Grain, Pet Treats
Note: Each pouch comes with an open void to fill with your product, which is then sealed with an impulse heat sealer.
Holds 12oz Dry Material or 32oz Wet Material
Hot Fill up to 212 Fahrenheit (100 Celsius)
Freezer Safe as low as 32 Fahrenheit (0 Celsius)
While we do not print on our stock pouches, we have partnered with Avery WePrint to deliver an easy solution for custom labels. They provide fast and professionally printed labels at a low cost. Plus you can save 10% when you use the promo code ABC10! Click here to get started!
Great product. Arrived on time.
Thank you for the 5 stars, Shee! We appreciate your business!
Great product! Great service! Great price!
We're very satisfied with these Stand Up Pouches for our gourmet popcorn. The price is good for the smaller quantities we order, and they ship quickly!
Thank you for the five stars, Jake!